Tuesday Evening Practice: 7:00 – 8:30 PM
Sunday Service Ringing: 12:00 – 1:30 PM
(service ringing is 11:00-12:30 over the summer while the Cathedral Eucharist starts at 10 am)
3101 Wisconsin Ave. NW; Washington, DC 20016-5098 Directions and hours
The Cathedral has a ring of 10 bells in the key of D (tenor 32 cwt) that were cast by the Whitechapel Bell Foundry in 1962, installed in 1963, and dedicated in 1964. The bells are quite large, ranging from 608 to 3,588 pounds.
The WRS provides service ringing following the 11:15 AM Eucharist each Sunday. On the 1st, 3rd, and 5th Sundays of each month, we ring a series of short touches that generally include rounds and call changes, surprise major, and Stedman or Grandsire Caters. Visiting ringers who would like to ring should be able to competently and confidently ring rounds on a mid-weight six, but all change ringers are welcome to visit and observe.
On the 2nd and 4th Sundays of the month, WRS attempts quarter peals following the service; what we ring varies based on the ability level of the band. If you'd like to be included in one of these attempts, please contact our Area Representative (link below), ideally at least two weeks ahead of your visit. In your message, let us know what you ring and how best to contact you. If possible, please include information on how to reach you when you're in Washington, in case we need to inform you of a change in ringing plans. We'll get back in touch to let you know if we can include you in the quarter peal band.
Ringing visitors are always welcome to attend practices at the Cathedral which take place Tuesday evenings from 7-8:30 PM. Most weeks, WRS also holds an early practice from 6-7 PM for beginners. In this session, we may work one-on-one with new ringers who are still becoming comfortable handling a bell or we may practice rounds and call changes and simple doubles and minor methods. All of the ringing during the beginner sessions is done with silenced bells and simulated ringing audible only in the ringing chamber. At 7 PM we open the bells so that they can be heard outside. Our practice ringing ranges from rounds and call changes to spliced Surprise Major, Grandsire and Stedman Caters, and occasionally some Surprise Royal. Please note that on the last Tuesday of the month, all ringing is done on the simulator.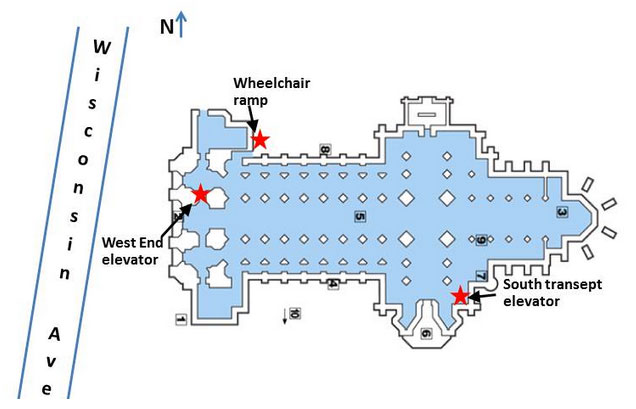 Bells of the Washington National Cathedral
| | | | | | | | |
| --- | --- | --- | --- | --- | --- | --- | --- |
| Bell | Weight | Nominal | Note | Diameter | Dated | Founder | Canons |
| 1 | 5-1-20 | | F# | 28.00" | 1962 | Mears & Stainbank | F |
| 2 | 5-2-11 | | E | 29.00" | 1962 | Mears & Stainbank | F |
| 3 | 6-1-12 | | D | 31.00" | 1962 | Mears & Stainbank | F |
| 4 | 6-1-22 | | C# | 32.00" | 1962 | Mears & Stainbank | F |
| 5 | 7-2-11 | | B | 34.00" | 1962 | Mears & Stainbank | F |
| 6 | 9-2-7 | | A | 37.00" | 1962 | Mears & Stainbank | F |
| 7 | 12-3-22 | | G | 41.00" | 1962 | Mears & Stainbank | F |
| 8 | 15-2-17 | | F# | 44.00" | 1962 | Mears & Stainbank | F |
| 9 | 20-2-24 | | E | 49.00" | 1962 | Mears & Stainbank | F |
| 10 | 32-0-4 | | D | 55.13" | 1962 | Mears & Stainbank | F |