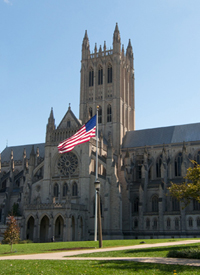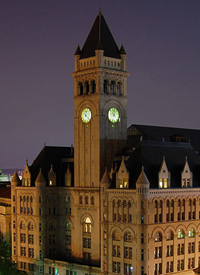 The Washington Ringing Society (WRS) is the Washington DC area's change-ringing organization. Washington has two towers with bells hung for the traditional English art of change ringing — the Old Post Office Tower (OPOT) and Washington National Cathedral. The WRS rings at both towers and several members of the group also get together regularly for change ringing on handbells.
Ringing visitors are welcome at our weekly practices and service ringing sessions. Please contact our Area Representative before your visit for more information about when and where to meet. On the 2nd and 4th Sundays of each month, our service ringing at the Cathedral takes the form of a Quarter Peal attempt; ringing visitors who wish to join us should also contact us in advance.
Although non-ringers cannot visit our practices and ringing sessions, those who are interested in hearing us ring can do so from outside the towers. At the Cathedral, the Bishop's Garden on the south side of the Cathedral is a pleasant and convenient location to listen to the bells. The bells at the Old Post Office are best heard at the corner of Pennsylvania Avenue and 12th Street NW. There is (appropriately) a pub, Elephant and Castle, located at that intersection that serves both as a listening place and a reasonable spot to take a respite from touring.